Tagaytay Forbes Residences - LOCATION
As the name implies, Tagaytay Forbes Residences is located in the city of Tagaytay. It is part of the province of Cavite and is one of the country's most popular tourist destinations. People who travel to Tagaytay do so in order to experience its colder climate due to its high altitude. Meanwhile, Tagaytay is also mostly surrounded by lush greenery, which is a huge contrast to the urban landscape of Metro Manila. Hence, it should come as no surprise why tourists flock here, especially those who want to relax and unwind.
The city of Tagaytay is only 59 kilometers away from Metro Manila. It is accessible via the Aguinaldo Highway. Hence, the residents of Metro Manila who want to escape the heat and stress of their urban lifestyle can find a refuge in Tagaytay. If you find a home in Tagaytay, you should therefore consider yourself lucky as you won't have to travel to experience all of these.
The average temperature in Tagaytay is 24-degree Celsius, which is lower than what you would experience in Metro Manila (which ranges around 30-degree Celsius or higher). The monsoon season is also milder in Tagaytay. Hence, the residents of the city experience milder temperature and weather all throughout the year. The coldest time of the year is from December to January with a daily mean temperature of 22-23 degree Celsius.
Aside from the ideal location in terms of natural beauty and a wonderful climate, Tagaytay is also booming in terms of its economy. The tourism industry forms a large part of its economy. Next to Baguio, it is also considered the summer capital of the Philippines. It is also the number one choice for tourists in the Calabarzon region. However, there have been plenty of new developments within the city to provide additional source of economic growth. The agricultural industry is one of those sources of economy that had been consistent for many years.  In fact, 20 percent of the city's total land area is developed as an agricultural land.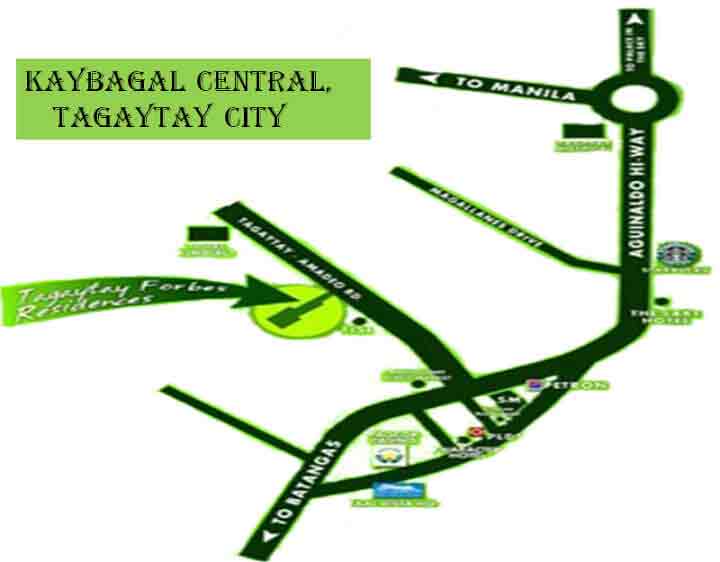 For the residents of Tagaytay Forbes Residences looking to enjoy the modern conveniences of the big city, you won't feel missing out. Ayala Malls Serin is one of the biggest shopping centers in Tagaytay and is therefore the best place to go to for residents of Tagaytay Forbes Residences seeking to fulfill their shopping desires without the need to go to Metro Manila. Another notable shopping destination in Tagaytay is Summit Ridge Promenade.
For your other basic needs, there are plenty of schools, churches, and hospitals near Tagaytay Forbes Residences. Among those located within a few minutes away from the site development area are Tagaytay Montessori School, Tagaytay City National Science High School, Tagaytay Medical Center, Ospital ng Tagaytay, Our Lady of Lourdes Church, Our Lady of Manaoag, and Pink Sisters. If you need to relax and unwind, there are several places to go to in Tagaytay for your enjoyment. Here are some of them to add to your list: Tagaytay Picnic Grove, Museo Orlina, and Sky Fun Amusement Park at Sky Ranch.